Monitoring and Querying Heterogeneous Data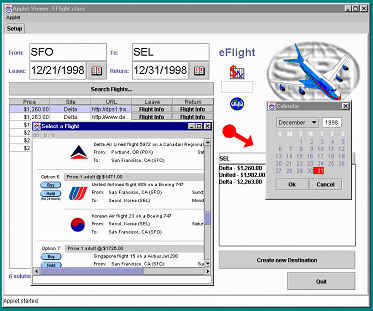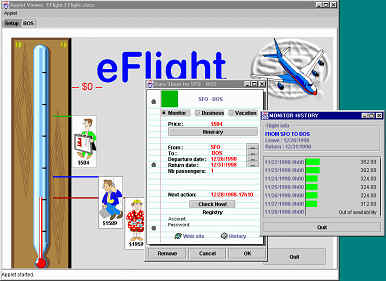 E-Flight: searching and monitoring multiple travel websites
The first project focused on the integration, searching, and monitoring of heterogeneous semi-structured data sources using OAA was in 1995-96, the InfoBroker project. Using a similar approach, the OAA Rental Finder application provided real-time monitoring of multiple websites dedicated to housing classified ads. This service, used by new-hires at SRI from 1996-1999, would provide automatic notification through email, fax or phone, as soon as a new prospect was detected matching the user's interest profile.
Later versions, such as E-Flight (pictured above), provided a number of real-time monitoring, search, and planning capabilities across data from multiple websites. FAAAB provided similar capabilities to E-Flight, but also included intelligent scheduling algorithms which would maximize your bidding outcomes across multiple auctions.
Unpublished Report: "The Information Broker Project", David Martin and Hiroki Oohama, 1996.

Unpublished Report: "FAAAB: Find All Auctions And Bid", Adam Cheyer, Luc Julia, Didier Guzzoni, 1998.

EFlight User Manual, Adam Cheyer, Luc Julia, Douglas Moran, 1997.