Verticalnet Captures Top Spot in Overall Functionality
AMR Research cites Verticalnet's sourcing and supply chain application suite



AMR Research, a leading technology research firm, named Verticalnet as the functionality leader in a report offering a detailed analysis of 17 strategic sourcing vendors, including some of the largest ERP and supply chain companies. The report is based on an evaluation of the top 17 vendors in the space against 200 functional requirements and more than 80 interviews with current adopters of the technology. AMR Research projects that the strategic sourcing market will grow from $350M in 2001 to approximately $1.8B by 2006, representing a five-year Compound Annual Growth Rate (CAGR) of 40 percent, driven by the maturing software and a growing awareness of the compelling ROI.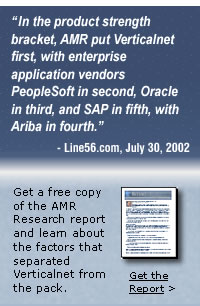 "What separates Verticalnet from the pack is its ability to take its componentized architecture, "many to many" data model (well suited to direct material support, including time phased supply / demand), generalizable workflow, and taxonomy management capability, in order to build a personalized application that near-flawlessly executed the 17 process flows that AMR Research used to test its 200 functional requirements," continued Mitchell.
In the same report, Pierre Mitchell recommends, "Companies that want a common application platform for both strategic sourcing, as well as supply chain collaboration and execution, must include Verticalnet on their short lists."
"We could not be more pleased with the results of the AMR 'deep dive' strategic sourcing evaluation," stated Kevin McKay, president and CEO of Verticalnet. "The decisions we have made over the past year, including our migration to a focused software company, our acquisition and successful integration of Atlas Commerce, and our commitment to investment in our products have all been validated. Being positioned in functionality above major software and sourcing vendors such as SAP, i2, Manugistics, Oracle, Ariba, and FreeMarkets is a public affirmation of what we consistently see in the market when we go head-to-head against these competitors." McKay continued, "We have truly listened to our customers and prospects regarding the need for ease of use, rapid deployment, and integration with legacy and enterprise systems. We designed our product with the basic premise that there will always be disparate systems across divisions, suppliers, and buyers in any given supply chain network, and that meaningful solutions will need to fully address the ability to manage information across those systems. You can bet that we will use the results of this study to drive increased market traction and accelerate revenue opportunities at many of our identified prospects. "
Additional information about AMR Research's e-sourcing report can be obtained at www.amrresearch.com.
"Its customers are impressive, and its management team ... is similarly strong. Given its ramping traction, A-list of prospects, and rapidly decreasing cash burn rate, Verticalnet could be back on track to find its golden road," said an AMR Research Alert dated July 1, 2002.